Couples Day Out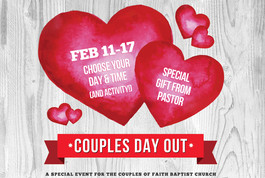 Date: Sunday, February 11, 2018 -
Saturday, February 17, 2018
Time:
Location: - Faith Baptist Church
Pastor Smith is asking each married couple at Faith to plan a special time out, just for each other, between February 11-17. Remember it's also Valentine's week, so make your plans or reservations early! Here are a few ideas to get you started:
Go out for lunch or dinner
Go someplace fancy just for dessert
Go on a nature walk and have a scenic picnic
Go to your favorite spot/place you have a special memory together

Snap a photo of the two of you together enjoying your date, then text it to (253) 269-4377 and you'll receive a special gift on Sunday, Feb. 18!